Built with attention to every detail.
Safety for everyone
We used our 15+ years experience to develop the most beautiful yet safest two wheeled electric cargo bike on the market. We made choices based on the safety and comfort of the driver, your surroundings and most important: your precious cargo.
A smooth ride
Comfort and speed are difficult, but not impossible to combine. The custom designed frame, cable steering mechanism and high quality parts & components makes the Twin Cruiser a pleasure to look at and fun to ride.
Feel the power
With the Shimano STEPS® E6100 system, you have the ultimate speed and control within reach. The advanced display, controls and automatic lights are just a touch away. And its motor will kill the winds and flatten all hills.
sign up for a free test ride
Carried out at the Johnny Loco Store - The Hague, The Netherlands
The specifications
Why to fall in love
Not only its appearance, but also the specifications of the Twin Cruiser are worth mentioning. Such as the frame and box. Lightweight and rust resistant thanks to the use of alloy instead of steel. Or the quick adjustable seat post and handlebar to switch between drivers in no time. Only two of the many advantages.
Behind the name
Two. Twice. Twin. ✌︎
Our new electric cargo bike is named after many reasons. She has two (identical) wheels, comes with box space for 2 children, has a double constructed frame and the Twin Cruiser is the second two wheeled cargo bike in the history of Johnny Loco.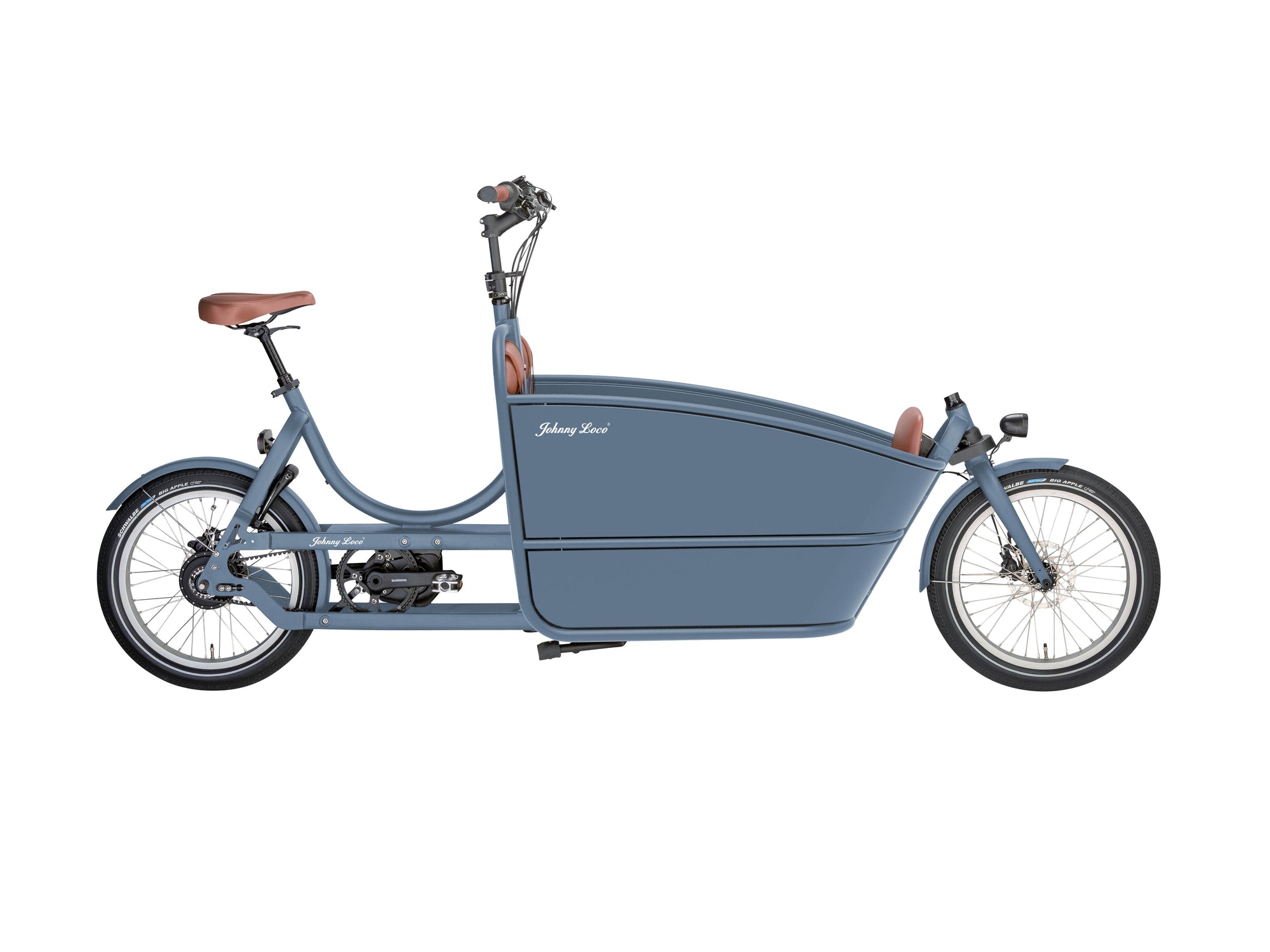 Register for a
Free welcome package
Bought a Twin Cruiser at a Johnny Loco Dealer?

Register your Twin Cruiser now and get your personal welcome package, including your unique serial number on a genuine numberplate.
It's your ride
You're in control. ▷
The Twin Cruiser's driver has full control over his or her journey and comfort. You are able to adjust the saddle and handlebar height very quick. This provides you with the perfect riding position and the electric support, gears, brakes, lights and ringing bell are always within reach.